From the ground up, women are rocking the world of architecture
Sylvia Kasanga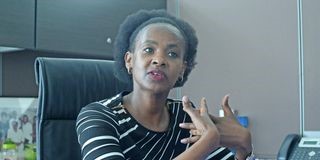 Curiosity drove me into the field of architecture. Well, some wise men once said, whoever asks shall see the light. This is typical of Ms Sylvia Kasanga's story, an architect who founded Sycum Solutions, a firm that has offered architectural services for close to two decades now.
From the start, Ms Kasanga was not keen on studying architecture until she received a letter from Jomo Kenyatta University of Agriculture and Technology (JKUAT) for the course.
In selecting her courses to pursue university studies, architecture was a second option. In fact, she chose architecture to just complete her selection. She had little information on what it was about. And JKUAT was also not among the universities of her choice. And so the letter from a university offering a course she would not figure out, drew her curiosity.
"I got curious," says the 43-year-old who is also a nominated Senator and currently co-chairs the ad-hoc committee on Covid-19.
Change of mind
"I took a trip to JKUAT. I met some professors who took me through what architecture students do, showed me the library and projects, and I got very interested. That is how I ended up taking up architecture."
But her decision came with an allowance for a change of mind.
"I told my mom I'll give it a chance for a year and if I don't like it, I'll go back to my business administration," says Ms Kasanga who was born and brought up in Machakos.
It was not a bad choice after all. On the course of the study, the Machakos Primary School alumni realised she had an innate creativity ability.
"I discovered I can draw and paint. I did not know I had an artist in me and I started enjoying it," says the architect, one of the four female students in the architecture class of 1996-2001.
The architect who attended Loreto Limuru High School remembers her fellow male students as very cooperative. In fact, in her sixth year, hadn't been for the help of her male colleagues, she could not have completed her practicals as she injured her hand, making it impossible for her to put together her architectural model.
Secure clients
Away from class, she found the space for women to be lonely and harsh. It was male-dominated and difficult for women to gain acceptance and secure clients, she says. After school, she enrolled for an 18-month pupillage before receiving a certificate to start practicing.
She says her desire was to "do her own thing."
And indeed when registered her company in 2004, which she now co-manages with three directors, her mission was to go against the grain and grow organically.
For three years, she worked from her living-room. It took her two years to secure her first commercial client, and got her first employee after securing three projects. Her first commercial client was a salon owner who contracted her to design the salon interior. She, however, describes the client as having been too difficult to deal with but ended up being a blessing in disguise.
"It was a tough job. The kind that could make you want to give up. But what it did, is that it discouraged me from hunting an interior design project," she says.
Soon after the distressing project, a family in Kitengela town contracted her to design and oversee construction of their house. She gave her best and it is this work that gave her business a lifeline. 
The family referred friends who have since formed the network that constitutes her clients. Finding her footing in the industry has been a journey demanding of her to be assertive.
She has led her team in designing and overseeing construction of numerous projects including Le'Mac, a 26-storey state-of-the-art building in Westlands. Clients failing to pay their dues even after putting too much resources in the project and others stealing designs are some of the challenges in the industry, she says.
Vicky Karuga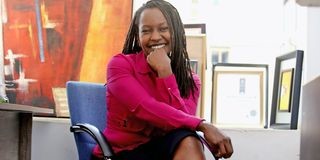 Designer who teaches music and enjoys playing drums for a local band.
Growing up, Vicky Karuga dreamt of becoming a teacher. However, after her Kenya Certificate of Secondary Education (KCSE) exams, she was admitted to Jomo Kenyatta University of Agriculture and Technology (JKUAT) to pursue Bachelor of Science in Civil Engineering.
Being a girl with a great passion for art and drawing, she decided to change her course to study Bachelor of Architecture.
And when the university agreed to her request, she was elated. Her parents and siblings were also happy and gave her the support she needed.
In a class of 16, there were only two girls. That, however, did not deter her determination to make it in the male dominated career.
"It was not easy for girls doing architecture at the time. We had a lecturer who, for example, would tell us the course was a purely male field. Our male colleagues were, however, very supportive, a thing that kept us going," she says.
Own company
After graduating in 2002, she worked for two leading architectural firms in Kenya for four years before quitting to start her own company, Tarakibu Architects, in 2006.
Ms Karuga says her desire to become self-employed and create employment made her quit.
The company was started in a servant's quarter where she stayed then.
One year later, she said the business faced unprecedented challenges due to the 2007 post-election violence, which negatively impacted on the real estate and took years to recover.
The Covid-19 pandemic has also negatively affected the real estate industry.
Her company, says Ms Karuga, has grown through marketing and referrals adding that it has been an interesting 14 year since its inception.
She attributes her success to hard work, focus and determination. Balancing family and work has been a major challenges. Her greatest achievement is seeing her clients satisfied with her work.
Nominated Senator
So far, Ms Karuga has designed buildings in Nairobi, Nanyuki, Mombasa, Eldoret towns and in Burundi. To make it in any career, Ms Karuga says, it is important to have mentors.
She gives her mentors in the architecture field as Emma Miloyo who served as the first female President of the Architectural Association of Kenya (AAK) and nominated senator Sylvia Kasanga who is also an architect by profession.
Her company mentors upcoming architects and takes them through what the career entails. Her message to girls and even boys seeking to do architecture is not to limit themselves.
"Just know what you want and get to know the price you have to pay to achieve it. A long term journey normally calls for patience and persistence," she says.
During her free time, she is a music teacher and plays drums for a local band.
Charity Wanjiku Nyaga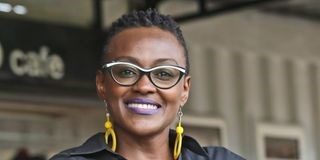 TV advert inspired this young girl to be an architect.
When she was 10 years old, Charity Wanjiku remembers watching an advert on television that inspired her to become an architect. It was an advert by an insurance company in which a lady made a presentation of a house model to a panel after which all the panelists stood up and clapped owing to her superb job.
From that day, the urge to become an architect started burning in her. The sky was the limit for the girl who was good in craft and drawing and nothing could stop her. Even after being told that architecture was a course for boys, she asserted that she was going to be the first girl to do it.
After her Kenya Certificate of Secondary Education (KSCE) she was disappointed after being admitted to University of Nairobi since she preferred Jomo Kenyatta University of Agriculture and Technology (JKUAT).
Admission letter
This forced her to make endless trips to JKUAT seeking audience with then university Chancellor Prof Ratemo Michieka to try and plead her case.
"I succeeded in the end after many visits to the university. I remember Prof Michieka handing me the admission letter and telling me that he was only admitting me because I was a girl. I will always remain grateful to him," says Ms Wanjiku.
In a class of 16, they were only six girls which then according to the history of JKUAT was the biggest number of girls in an architecture class.
She attributes her success to support from her family, lecturers and even male colleagues. She says some of her major achievements as a registered architect is being able to change a plain place into a habitable space and seeing the satisfaction in her clients.
Successful project
In 2013, she partnered and founded Trioscape Space Planning Limited, where she is the director. In the course of her career, she has designed several buildings both residential and commercial.
Her most successful project is the 500 car capacity underground parking at the Holy Family Minor Basilica which was opened early this year which was undertaken by her company.
She terms stereotyping as the biggest challenge for women architectures and those in other science related fields.
"Men tend to believe that women cannot do a diligent job compared to them. They also find it hard to take instructions from a woman in the field," she says.
However, Ms Wanjiku, who doubles up as an architect and project manager says women have a weakness of second guessing and not being confident in themselves and their capabilities.
An active member of Women in Real Estate (WIRE), Ms Wanjiku is also partners with Precious Sisters and Akili Dada which offers mentorship to young girls to make it their dream career. She also gives internship opportunities to girls pursuing architecture in her companies which so far has eight employees.
Her mentor
"We need to encourage girls and let them know that they can do it. We also need to normalize women into taking up STEM related courses," she says.
Her message to women in STEM related courses is to maximise on their strengths, always focused, and remain gentle.
Ms Wanjiku says her partner in the company, Mr Peter Opon, is her mentor who has taught her a lot in the field. During her free time, she enjoys jogging, hiking, travelling and listening to audio books.
Her future plans are to leverage digital technology in order to make the industry learn how to utilise digital technology to shape a sustainable future for the built environment.
She is a member of a committee at the National Construction Authority (NCA) that is evaluating alternative building materials and technology in the country.
Emma Miloyo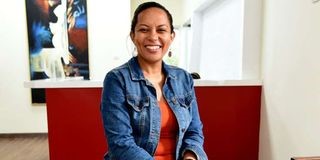 First female student to earn a First Class honours in architecture from Jomo Kenyatta University of Agriculture and Technology (JKUAT).
As a child, Ms Emma Miloyo loved creating structures using grass.
"I could say 'this room is the kitchen or this room is the bedroom," says the 40-year-old architect born and raised in Nairobi.
But it was until she joined Kenya High School that her art teacher shaped her future career in architecture. At home, her mother, who taught Mathematics at a local tertiary college cheered her on. "She believed in girls breaking the glass ceiling," says Ms Miloyo.
Now with Design Source, a firm she co-founded in 2006 with her husband who was her desk- mate at the Jomo Kenyatta University of Science and Technology (JKUAT), Ms Miloyo is content her innate creativity is being put into good use.
"JKUAT had a good culture of encouraging sterling performance among girls in Science, Technology, Engineering and Mathematics courses," she says.
Interior design
She was among the five girls out of a class of 18 students. Back to the start of her firm, which offers architectural and interior design services, Ms Miloyo says they focus on designs for commercial premises, residential and institutional buildings. In the beginning, however, she had to deal with challenging situations.
"It was daunting to be at the site of 100 people as the only female" she says. "It took time for me to get used to it."
For the 14 years she has been in the industry, her work has sold itself. Her quality service has over time drawn in more clients. Among her memorable works are designs of iconic Moi Educational Centre High School and Jesam, headquarters of Jesuit, a religious organisation - both in Nairobi.
Ms Miloyo is one of the 90 women out of 763 registered with the Architectural Association of Kenya as per a 2020 survey on women in built industry by Women in Real Estate (Wire).
In her view, raising the numbers of female STEM professionals would take mentorship and role modelling.
"The more the girls see women succeeding in the disciplines, the more they will be encouraged to take up these courses," says Ms Miloyo who attended Loreto Convent Msongari.
Top 40 under 40
When she joined JKUAT in 2006, there was only one female lecturer whom she says was a great inspiration to her and four other females in her class.
Ms Miloyo has also left a mark in many other girls. She has since her Third Year in university engaged in career talks.  And now in her capacity as the co-founder of Wire, she oversees running of the mentorship program where they visit high schools and universities to speak with the girls.
"The common belief that architecture is about cracking mathematics and complex physics models can be discouraging to the girls. But it actually involves a lot of creativity and people management skills," says the mother of three.
At Design Source, she has 15 staff  including four female architects, who drive her daily work.
Ms Miloyo is not only the first female student to graduate with first-class honours in architecture from JKUAT, but she is also the first woman to become the President of the Architectural Association of Kenya (AAK).
In 2011 and 2018, she was listed among the Top 40 under 40 Women in Kenya, a Business Daily listing recognising trail-blazing women. She has co-authored Building in Kenya, A Real Estate Developers' Toolkit, giving insights on delivering professional architectural services.
Marylyn Musyimi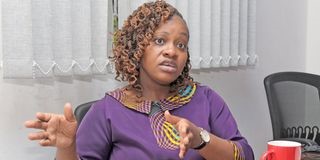 My mum stayed up late with me while helping out with the models.
Ms Marylyn Musyimi is a typical proof of the findings from the 2020 survey by African Academy of Sciences that moral support and encouragement from family is crucial to success of female students in Science, Technology, Engineering, and Mathematics (STEM) courses.
The study on Factors which Contribute to or Inhibit Women in Science, Technology, Engineering, and Mathematics in Africa also found out that peer support from male students was important to ensuring female students completed their STEM courses.
In the 34-year-old architect's case, first, she inspired her cousin to pursue architecture. Second, she had a heroine in her mother when it came to watching over her during the strenuous moments of winding up practicals or preparing for examinations.
"My mom could stay up late with me while helping out with the models," she says of her mother, a trained in Computer Science.
Her mother's moral support kept her fresh and strong throughout the six years she spent learning architecture at the Jomo Kenyatta University of Science and Technology (JKUAT).
Loved drawing
"Architecture is exhausting, by the time you reach sixth year, you just want to finish," says Ms Musyimi who would tell from childhood her inclination towards the field as she loved drawing and putting up dummy structures.
"Having people around you who understand that the course is intense helps," says the architect brought up in Nairobi and Thika.
Third, male course mates made learning much easier. She joined JKUAT in 2005 meeting other three girls to make up a class of 14 students. The gentleman looked out for them, walked them to their hostel doors when they studied late together.
"Learning architecture takes a lot of teamwork," she says. And the male students were very helpful.
Getting into the job market was easier for her. She had already secured a job in a Mombasa City based architectural firm before her graduation in 2011.
She worked there for eight months before she got a placement at another company in Nairobi.
Somalia, Uganda
For five years, she devoted her time to gaining experience which she transitioned to her firm - Bustani Construction Solutions. She co-founded the firm in 2012 with a friend, a specialist in construction management.
In 2016, she resigned to commit to growing their firm whose services have so far stretched to Somalia and Uganda.
She marvels at her experience while overseeing construction of Ministry Complex and Youth Centre, at Kismayu in Jubba land, Somalia.
"You would think because of their culture, which puts women second, they could not tolerate a woman giving instructions but the team was respectful and did listen and follow my instructions,"  she speaks of the project which involved a host of Muslim workers.
She is also part of the team that oversaw construction of Kigali Conference Centre.
Ms Musyimi has a Master in Construction Management from University of Nairobi and has since 2018 lectured at JKUAT. In her capacity, she continues to mentor girls and encourage them to fight on to the last lap.
Energy sapping course
However, universities have made it easier for students to complete the energy sapping course. The course has been broken into two-tier module. Students can now graduate at fourth year then re-enter to complete the two years, she explains.
As girls dream to pursue the course, there are key subjects they need to study in high school that include fine art, technical design and physics alongside mathematics, chemistry or biology as well as history or geography.
"There is a lot of motivation in girls looking up to us and seeing more and more of us practicing," she says.
For instance, at JKUAT she says, if a girl becomes pregnant on course, they make her learning easier by either staggering her presentations or giving her more time to complete her project.
One of the things that stands between failure and success for women starting their own firms in this industry is inability to get clients. To overcome the challenge, Ms Musyimi has a tip.
"Network more. The more you network the more you get referrals," she says.
Florence Nyole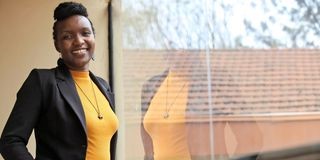 Men at construction site catcalled me oblivious of the fact that I was their boss.
Until she found herself supervising construction of a multi-storey complex in Nairobi city, 35-year-old Florence Chepchumba Nyole had not been hit hard by glaring difficulties of women disrupting gender inequalities in the architectural sector.
Eight years ago, a determined Ms Nyole visited the construction site to supervise the project as the lead consultant. Her employer had entrusted her with the role that involves giving instructions to all-male team.
"You would issue instructions and you are literally dismissed it," says the Ms Nyole who got her first job immediately after graduation from University of Nairobi (UoN) in 2011 with a degree in architecture.
"But my boss was very firm. He could visit them and affirm that they should adhere to the instructions," says the architect who obtained her Masters in environmental design and sustainability from the same university.
That was not all. The men-at-work catcalled her, oblivious of the fact that she was the boss.
Private practice
"It was demoralising. But I had to do my work. With time, they realised I was qualified to do the job and accorded me the due respect," says Ms Nyole raised in Nakuru and Eldoret.
When she fully joined private practice in 2017 under her co-founded firm-EcoSpace Architects, she had gained the necessary experience to stick her head out of the space crowded by men.
For the Kenya High School alumni, the art of architecture was in her blood. From childhood, she was the girl who did the chicken coop or fixed the television set.
Her love for the profession was also nurtured by her mother. She observed her hammer structures here and there, building strong belief in her that women were an equal match in construction.
Her late father too, served as a formidable cornerstone throughout the six-years in university.
She says, he encouraged her. He was always ready to provide that which she needed to succeed, she says. She is one of the four girls who graduated from the university, joining a market with a handful of female architects.
But Ms Nyole, who attended Mount Saint Mary's Primary School in Molo, Nakuru County has steadily built her portfolio, becoming one of the fast rising female architects in Kenya.
At her age, she has great achievements to her name. She has successfully run a close to a decade-old firm, she is the current President of the East Africa Institute of Architects and chairperson of the Architects Chapter at Architectural Association of Kenya (AAK). She also lectures at UoN.
In 2017, her firm won an AAK Duracoat Awards of Excellence under the Best Educational Project for having designed and built an eco-friendly and environmental sustainability primary school at Talek in Masai Mara.
Gender insensitive
In her design for the school, she integrated conflict management, eco-friendly and environmental sustainable aesthetics including water harvesting and use of solar.
Even as the number of female architects grows, the playing field is vastly uneven. Gender insensitive bidding is a thorny problem in the industry.
"Some of the proposals demand for 10-20 year experience while the few architectural firms that are female-led are not yet there," she says.
She believes securing the space of women in decision making tables in the architectural industry, would influence gender-sensitive policies to level the ground.
In 2017, Ms Emma Miloyo became the first President of AAK founded in 1967. She had also served AAK as Vice President between 2015 and 2017. In 2019, she handed over the baton to Ms Mugure Njendu.
For her, sisterhood is crucial to breaking barriers frustrating women building their careers in the profession.
Mary Wambui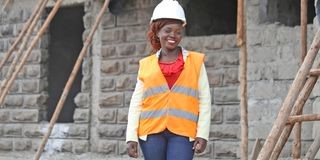 I missed a job opportunity because of my gender.
Mary Wambui's wish was to become a journalist. However, her father had other plans for her. He wanted her to take up architecture.
Ms Wambui enrolled for the course. She enrolled at the Kenya Institute of Highways & Building Technology (KIHBT) to undertake a Diploma in Architecture.
However, during the first two semesters, her heart was not for the course despite being among the best in her class of 23 – 19 male and four females.
By the third semester, she suddenly had a change of heart and developed interest in the course.
We caught up with her in Rongai, Kajiado County, where she was inspecting a house, she recently designed, under construction.
In 2010, Ms Wambui graduated and embarked on full-time practice as an architect. She currently works for Skair Architects.
The mother of one says getting a job initially was one of the greatest challenges as many potential employees could not believe a woman could do the job.
Discrimination rife
"Many employers could not believe I could deliver. I remember one employer who told me on my face that they could not employ me as I was a woman. He said they were looking for a man," she says.
Despite the challenge, however, she eventually landed a job which she did diligently and later helped open doors for in her career.
Ms Wambui says it has not been easy especially when some men look down on her. She has however, perfected the art of ignoring such people.
Discrimination in the field is rife. Some male bosses and colleagues still hold the notion that female architects are not equal to the task. I want to let them know we are also equal to the task," she says.
Ms Wambui lists her first boss as her mentor saying despite being fresh in the field, her boss encouraged her to take up challenging tasks. She says passion and a strong drive to learning new things is her driving force.
In her career, Ms Wambui has overseen designing of buildings in Nairobi, Kajiado, Nakuru, Machakos, Kisii and Mombasa counties that include residential, commercial and institutions.
PCEA Syokimau Church is one of the projects she is most proud of as it was the best, yet the most challenging.
Her wish is to help mentor young girls doing architecture. Her message to the young girls is not to fear Stem courses as that is where the money is.  She hopes to further her studies and start her own company.
Susan Kibue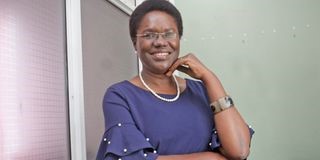 Meet JKUAT's first female lecturer of architecture.
Looking for a female architect with close to three decades experience both in practice and academia? Then, Dr Susan Kibue is your perfect candidate.
Dr Kibue is the first female lecturer in the department of architecture at the Jomo Kenyatta University of Science and Technology (JKUAT).
Ms Sylvia Kasanga who runs Sycum Solutions, a firm that has been offering architectural services for close to two decades now, Ms Emma Miloyo, immediate former President of Architectural Society of Kenya (AAK) and Ms Marylyn Musyimi, a lecturer at JKUAT in the same department and co-founder of Bustani Construction Solutions, are her products and she is proud of them.
"I always encourage them to keep flying," she says.
She has seen the architectural landscape change from a 1:10 ratio of female to male students to an almost 50 per cent share in enrolment.
"Now we have large numbers of students. Even 100, out of which 30 or 40 are female students."
In her 1983-1988 undergraduate class at University of Nairobi (UoN), there were only two girls of out 32 students. And the wonder of why the girls choose the "hard" course was explicit.
Masters of Arts in Housing
"Male students from other classes would ask me, 'Why did you decide to do architecture? Will you make it?" she says.
But Dr Kibue found zeal in her colleague and fellow cooperative male students.
"We had to work with the nice male students and that made it easier because architecture requires a lot of teamwork."
Dr Kibue's choice for architecture is intriguing. She joined The Newcastle University, England in 1992 where she pursued a Master's of Arts in Housing. Growing up in a large family, she says, life was competitive and one thing she remembers the most is the never ending expansion of their family home on Kiambu Road to accommodate her eight siblings.
"There was always some construction going on. Either a chicken coop or a house for the farm employees and I got interested, but it wasn't clear to me what I wanted to do until after high school when I tried to figure out my career," says Dr Kibue who attended Alliance Girls for both her "O" and "A" levels.
She attended St Teresa Primary in Eastleigh, Nairobi County.
Art and drawing
"I was very strong in art and drawing and I wanted to do design. But then the idea of architecture came up when I interacted with a distant male relative who talked highly of the profession. It got me intrigued though at that point I thought architecture was only for men."
Her parents, she says, gave her all the support she needed.
"They were ready to do anything to give us an education even if it was selling something,"she speaks of her parents. Her mother was a teacher at St Teresa Primary while her father was a civil servant.
She has fond memories of her father. She says her father's commitment encouraged her to work hard. Her parents, she says, also taught her work ethics through "hard labour" while in the farm.
"There was nothing like lazing around or waking up at 10am because it's a weekend. You had to be up early to either feed the chicken, milk the cows or collect potatoes from the farm."
Lead at sites
Dr Kibue earned her doctoral degree in architecture from the University of Sheffield, England. She has previously worked at Ministry of Public Works and a private firm. 
She says her one year stint at the ministry sharpened her skills, having worked with experienced architects. She was attached to a section that handled mega construction projects in Nairobi, Mombasa and Nakuru, a job she got immediately after her graduation in 1988.
"I could accompany my group leader to meetings and site to take minutes," she says.
"Then one day he told me, "You know what, you will now be chairing the meetings and lead the supervision at the sites'. And I was just one year out of campus. That was quite a challenge but I took it and I learnt a lot."
In 2001, she registered her firm, Domus Architects through which she not only offers consultancy services in architecture but also mentors both male and female students.
She has led her team into designing and supervising construction of numerous commercial and private buildings in both rural and urban areas. She is currently working on a shrine in northern Kenya.
Gender disparities
She says although Kenya is making steady progress towards closing gender disparities in STEM, much is still needed to support the disciplines.
She notes that investing more in STEM would go along away in training highly competitive graduates and further bolster industrialisation which could boost growth of Kenya's economy.
Meanwhile, for the girls who wish to study architecture, all they need to know is that  "architecture gives a solution for space. It about a creativity. It's very interesting and enjoyable."
Fun fact
Did you know that Holy Family Basilica and the Kenya National Theatre are among monumental buildings designed by a female Kenyan architect? Dorothy Hughes also designed St. Mary's School and the Kenya Tea Development House Annex (the famous Florida II Nightclub, which was brought down a few years ago), among many others.