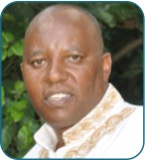 This article explains the importance of public health regulations in safeguarding the resilience of our cities. It is based on an interview with Arch. Kigara Kamweru (above), a lecturer in the Department of Architecture and Building Science.
In a few years, perhaps the next two decades, Kenya will join countries whose urban population exceeds the number of people living in the rural areas. According to Arch. Kigara Kamweru of the Department of Architecture and Building Science, the prospect of this irreversible phenomenon is a matter of grave concern given the existing evidence of our inability to create proper urban habitats. He indicates that now is the time to take action by addressing the challenges facing our fast-growing cities and other urban settlements. "We must think of an urban future henceforth", he says. Arch. Kamweru considers cities as institutions that are in a perpetual state of conflict with nature due to economic, social, and environmental pressures. He indicates that building sustainable and resilient cities requires the resolution of this conflict so as to attain reasonable levels of balance in the three dimensions. It has to do with ensuring that our urban systems continue to support quality life. According to the researcher, the degree of walkability in a city is a major indicator of the quality of life offered. "Daily movements are essential; people walk, they need to walk, but our cities are not built for walking", he explains. Arch. Kamweru cautions against allowing our cities to become de humanising environments in reference to the poor conditions prevailing in some of them. He has examples of what needs correction.
The researcher describes the marketplaces found in our cities as undignified spaces where food is sold in amorphous or poor quality environments. This kind of food can hardly meet the expected quality standards and is a threat to health. "The quality of food in a city has a spatial dimension and if we do not accommodate this space in our plans then we cannot track the flow of food", he says. As another example, he picks on the bus stations and asks, "Have you ever wondered why these places lack order?" He elaborates that the country's bus stations are chaotic, untidy, and prone to crime. Arch. Kamweru, who is a lecturer in architecture with a focus on building technology, urban systems, and urban design issues, explains that unfortunately, no spatial form has been developed to ensure that these places perform as they should. The flow of urban waste into the rivers is yet another problem, which makes it difficult to find clean water in them. According to Mr. Kamweru, all these factors are manifestations of a crisis. However, he also elaborates that the problems facing cities amount to a worldwide puzzle, which even the most developed countries have been unable to resolve. "We have not found the correct form of a city; we have not found a way to deal with the problems of a city", he declares. Arch. Kamweru has a Bachelor's Degree in Architecture from the University of Nairobi and a Master of Architecture from the University of Auckland, in New Zealand. His Ph.D. study focuses on the impact of building regulations on urban resilience. He describes resilience as the capacity of a city to recover its life-sustaining qualities when faced with challenges or traumatic episodes. Some of the challenges that we have to deal with in a city are hardly noticeable since they build up slowly, such as pollution or the movement of people. Some, like flooding, earthquakes, terrorist attacks, and fire outbreaks are traumatic. The idea of resilience originates from experience, and also concern, that the capacity of a city to support life can easily be challenged or diminished.
The researcher indicates that effective regulatory systems can be used to ensure that our cities become resilient. Thus, we ought to begin with urban planning to ensure effective exploitation of the environment's capacity to provide the desired life-supporting qualities of a city such as clean water and clean flowing air. Next, the public health issues come into play when the life-supporting capacity of a city is failing. Application of the Public Health Act is, therefore, important in maintaining the balance through regulation of health and safety issues. The researcher outlines the factors to bear in mind in This article explains the importance of public health regulations in safeguarding the resilience of our cities. It is based on an interview with Arch. Kigara Kamweru (inset), a lecturer in the Department of Architecture and Building Science. Commercial buildings should have provisions for safeguarding the safety, health, and convenience of the users By Utafiti Team order to maintain habitable city environments. For example, we have the question of efficiency and the sharing of facilities when you bring a large concentration of people in one place as happens to be the case with cities. "We should also consider issues of individual freedoms and choice against the limitations we have to impose in order to guarantee the freedom and comfort of all", he says. Arch. Kamweru explains further that commercial buildings should have provisions for safeguarding the safety, health, and convenience of the users. There are issues of privacy too, but further research is required to determine how to code these. According to Arch. Kamweru, urban systems bring out all these issues, but we must ensure that human dignity is preserved in our buildings without falling into the trap of the "tragedy of the commons". He emphasises that it is possible to resolve these concerns and create cities that are not life-threatening. "It is all about getting organized and designing processes that will give the desired outcomes", he says and indicates that what we need to do is ask the right questions such as, "Do we know how not to erect slums in our cities?" The issue of slums can be dealt with using a multi-dimensional approach, but the researcher would like to see more effort being applied to this issue, and less political interference, through the enforcement of regulations. He has the confidence that a more forward
Looking building code will be in place once the existing proposal is ratified. On the place of the University in helping to build sustainable and resilient cities, the researcher who has worked in the University since 1991 and was Head of Department between 2002 and 2010 has this to say: "We have all the knowledge we need, but we are not effective in translating this knowledge into services to provide solutions to the country's problems in urban development". He holds the view that the missing link is a lack of processes to deliver solutions to problems which have already been articulated. Those responsible for designing these processes have also been identified. "Architecture is about designing processes, and so is mechanical engineering, and management science virtually all the departments of the University design processes", he explains. Arch. Kamweru recommends the use of inter departmental, or perhaps interdisciplinary, approaches for designing processes that will systematically resolve the problems of our cities to attain liveable environments. This is because cities, and the challenges they represent, will continue to grow.